Trucking Accidents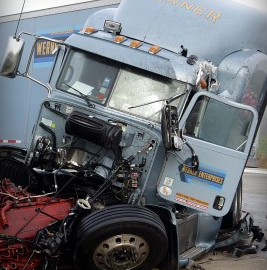 Trucking wrecks involving automobiles have significant potential of causing very serious injury. Back injuries, neck injuries, herniated discs, lacerated and broken bones are just some of the results that can occur. Unfortunately, many of these accidents are fatal to the passengers of the car.
A recent survey conducted by a leading trucking association reports that almost 90% of the trucking companies in the United States in the years since 2010 could not find enough drivers that met the United States Department of Transportation criteria to be allowed to drive trucks over the road. Compounded with significant turnover rates of drivers means that large trucking companies are not easily controlling safety.
While Safety Manager, Operations Manager, and President of a large over-the-road nationwide trucking company, Steven W. Gardner, a car accident attorney in Atlanta, gained experience with the injuries occurring from the failure of truck drivers to abide by the Department of Transportation hours of service rules and other safety rules.
Many truck drivers receive payment based on the number miles driven. Therefore, the driver has incentive to drive numerous miles, possibly in disregard of the hours of service limitations permitted. The result from driving over the permitted number of hours is likely fatigue and a greater potential for an accident. An accident with a truck is extremely serious. Mr.Gardner and his team of personal injury attorneys are quick to investigate wrecks to prevent the evidence from disappearing.
If you or a loved one has been injured in an accident with an 18-wheeler or other commercial vehicle in Georgia, contact a personal injury attorney at Gardner Injury Law today for a free consultation.
Car Accidents
Automobile accidents cause personal injury, lost wages, and losses in enjoyment of life. If you need a car accident attorney in Atlanta, contact Gardner Injury Law today! Our personal injury attorneys are trained with Steven W. Gardner's "Automobile Injury Steps for Success Program." We work hard on each and every case – no matter what size – to recover the money that you deserve. Our results demonstrate our success!
Did you know automobile wrecks occur hourly in the state of Georgia? They have devastating effects on people's lives, as well as their loved ones. Victims of serious wrecks suffer from a multitude of injuries such as back and neck injuries, traumatic brain injuries, injuries to internal organs, and injuries to arms, legs, and stomach. Bone fractures are typical, which generally require casting or surgery. Shoulder injuries, such as rotator cuff injuries, are also frequently caused. Your injury may requiring extensive and sophisticated medical diagnosis and treatment. Even seemingly smaller impacts may cause moderate to severe injuries which result in significant pain, loss of activity, loss of wages, and interference with life.
The danger exists at intersections, on straight highways, from young drivers to drivers who are driving under the influence of drugs or alcohol, from temporary inattention, or from texting. Unfortunately, the insurance industry has developed an attitude against compensating the legitimately injured person suffering from the neglect of another. They simply do not wish to pay. Their tactics may seem innocent enough, but those suffering as a result of the negligence of another should be aware that an insurance company is looking out for its own interest and has a battery of lawyers, adjusters and surveillance personnel employed to immediately attempt to minimize, or not pay the value of legitimate claims for losses.
The personal injury attorneys at Gardner Injury Law in Atlanta have obtained verdicts and represented scores of people who have suffered invertebral disc injuries; whiplash injuries; nerve, ligament and muscle injuries; and many other serious injuries.
Don't go it alone! Our staff of car accident attorneys throughout the state of Georgia are experienced and ready to help you protect your rights, while pursuing your financial and pecuniary losses to obtain the compensation you deserve.
Fill out the form below one of our representatives will review your case.
[pwebcontact id=2]